Tailored For Dry Cleaners
CleanCloud is a Point of Sales software solution perfectly tailored for dry cleaners and laundry services.
You'll find it instantly familiar, easy to use, simple and powerful.
Easy to use on any device
CleanCloud works on any desktop, laptop, tablet or smartphone to digitize your dry cleaning business, supplying first class features with lighting performance to keep you ahead of your competitors.

Cloud Benefits
Being cloud based there is no need for costly specialist hardware. This brings other benefits including free backups, instant upgrades, no viruses affecting your data, and the ability to access your system from anywhere.
Fully Customizable
CleanCloud starts off with a preset configuration but your product list, pricing, business information and settings can be easily tailored to fit your requirements and will be updated instantly.
The complete point of sales experience for your store
We'll help you create a beautiful point of sales experience for your business, whether you have 1 store or 100+. Giving you the choice of hardware and helping you to find the most cost effective setup to deploy across your stores.

If you run a pickup and delivery service your customers can use your branded store to book pickups via our iOS and Android apps or your website.
Expand your Business
CleanCloud customers increase productivity and profits
Our Dry Cleaners Succeed
Dry Cleaners that use CleanCloud report an increase in customer satisfaction and staff efficiency as well as better management of their business.

Most importantly dry cleaners that have been with CleanCloud for over a year report significant improvements in their average revenue and order numbers.
Unlock New Business Opportunities

Using CleanCloud you can leap past your competitors by taking advantage of some of our standout features:
Expand your network of stores and manage them centrally
Run an app powered pick up and delivery service
Offer your customers a monthly subscription service
Start a kiosk/booth with drop shoot service
Utilize locker drop off locations
Use the Hardware you Love
CleanCloud works on PCs, Macs, iPads & Tablets and Smartphones. It can be operated using touchscreens and/or mouse and keyboard.

With no need for costly specialist hardware you can get started straight away with a low cost receipt printer and/or garment tag printer.
Explore Features
Fast, powerful, secure and easy to use.
Online Delivery App
Give your customers iOS and Android apps to quickly book and manage their orders from their phones. The orders will go straight intto your Point of Sales system. Learn more about this service ›
Delivery Routes and Journer Planner
Assign your customers to routes and use our route optimizer tools and integrations to help your drivers efficiently pickup and drop-off your orders, as well as update their status from the road.
Start your free, no-risk, 14 day trial!
No credit card required.
Get Started Today
Choose the plan that suits you best. 14 Day Free Trial with all plans.
Loved by thousands of dry cleaners worldwide
Find out why our users love using CleanCloud
As a new start up, I was looking for a dry cleaning software that was easy to use and affordable. I came across CleanCloud online and to say that I am anything less than incredibly impressed would be untrue. Not only is the software powerful and easy to use, but the CleanCloud team behind the software is just as amazing. Any time I have an idea or suggestion, the support team instantly responds and does whatever they can to cater to my needs. If you are looking for a dry cleaning software for your business, you would be foolish to look anywhere else besides CleanCloud.

Steven Press Direct, USA
Not only have I found CleanCloud to be a great software to use, but my staff find It very user friendly which is a great relief as I found other dry cleaning software to be complicated and also time consuming as they take a long time to get used to. With new features being added weekly everyone at Dry Ice has found CleanCloud to be a key tool in organizing our store and improving the experience for our customers.

Ben Dry Ice Dry Cleaners, UK
This company empowers small business owners to think big! The system is easy to use and because it is cloud-based it is accessible remotely on all devices from anywhere. This helps because it makes tech support even better! If there is a problem the support staff can fix it remotely, also they make updates through the cloud.

Michael CleanCloset, USA
After launching our new pickup and delivery business with a traditional POS, our transition to CleanCloud has allowed for a significantly easier process for us (the dry cleaner) and our customers. For the customer, the online booking tool, email notifications and online payment make the dry cleaning pickup and delivery experience seamless. For the dry cleaner, the ability to check in an order from a cell phone, receive payment before delivery and check day-to-day analytics on the go has been fantastic.

Jonathan Dry Cleaners Toronto, Canada
Far and away the best dry cleaning software solution out there. The software has saved us money and increased the output of our dry cleaning stores. We have also received a lot of useful updates since signing up which have been great.

Mark Harveys Dry Cleaners, UK
CleanCloud has allowed us to better manage our dry cleaning business with many stores and a central plant, as well as allowing us to enter new markets that we weren't able to do before. Our staff have taken to the software well, minimizing our training costs and reducing mislaid garments and uncollected orders.

Stephen DryCleanIT, Ireland
I thought we would give CleanCloud a try since there was a free trial. Couldn't be more impressed by the functionality and ease of use of everything. Did I mention customer support is incredible? Most of the time my problem or issue was either addressed or fixed the same day. It took us 3 weeks from the time I signed up, to the time we implemented CleanCloud into our store and had our employees trained.

Best decision we have made for our business!

Nick Rainbow Dry Cleaners, USA
I have recently launched CleanCloud in my business and it is truly helpful and eases my day to day operation, i can monitor everything remotely through whatever device i am using. The support team are more than responsive to any comments or adjustment requested.

Ahmed Golden Class Dry Clean, United Arab Emirates
Pickup and Delivery apps for your customers
If you are running a pickup and delivery service, locker drop off or kiosk service then CleanCloud provides you with your own branded mobile-friendly store and smartphone apps that will have your customers ordering with just a few taps.
Supercharge your Business
With the smartphone app directly connected to your CleanCloud account, you'll have full control of your account and see your orders arrive in real-time.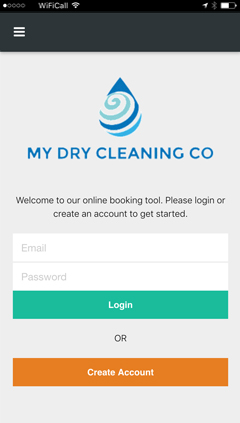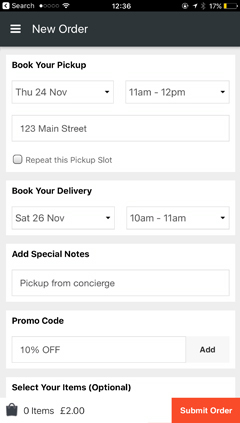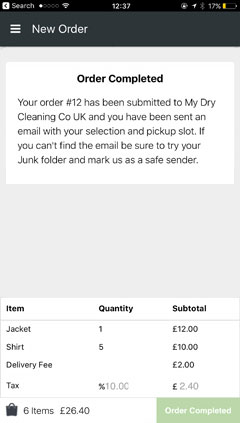 Delivery Routes
If you deliver orders to your customers you can set multiple routes and stops for your drivers. This provides them with an ordered printout for their deliveries, and one tap access to Google Maps Navigation for directions to each address.
Integrates with your Website
Our tool can be easily embeded into your existing website with just a couple of lines of code.